Pixel Combat Multiplayer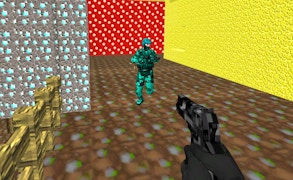 Pixel Combat Multiplayer
Immerse yourself in the thrilling world of Pixel Combat Multiplayer, a groundbreaking addition to the genre of pixel games. This action-packed multiplayer FPS, with its state-of-the-art block world and pixel style weaponry, brings a fresh perspective to gun games and battle games.
Experience the adrenaline rush as you engage in epic battles with friends or other players from across the globe. Be it Deathmatch or Team deathmatch, every encounter in Pixel Combat Multiplayer is a fight for survival that will keep you on your toes. However, beyond the bullets and bombs lies a battle field full of strategic depth and tactical choices that sets this game apart from generic survival games.
The game also features a unique Skin case system, allowing you to personalize your character like never before. The visual appeal is further enhanced by high-quality graphics that bring the modern block world to life, giving an aesthetically pleasing contrast against the pixel style textures prevalent in sniper games.
In terms of content, Pixel Combat Multiplayer leaves no stone unturned - boasting 10 new weapons and 21 distinct maps imbued with pixel style textures! Expanding the boundaries of what's possible within this gaming genre, it caters to your every strategic whim with diverse locations tailored for varied playstyles.
Overall, Pixel Combat Multiplayer strikes a perfect balance between casual fun and competitive intensity - making it an absolute must-play for fans of shooting games. So why wait? Dive headfirst into this rollicking shooter game and have some fun amidst explosive action!
What are the best online games?