Pixel Arena Game FPS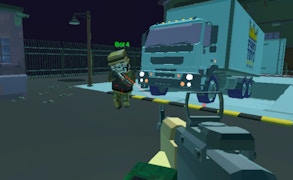 Pixel Arena Game FPS
Immerse yourself in the pixelized warfare of Pixel Arena Game FPS, a thrilling blend of survival, battle, and shooting genres that have been masterfully combined to satisfy your craving for epic gun games. Get ready for an intense skirmish against realistic zombie AI and robust enemy soldiers that are thirsty to send you straight into oblivion.
This compelling sniper game dives straight into the action with five distinct modes ready to challenge your combat prowess. Whether it's the gun game, TDM, DM, or survival mode that floats your boat, you're bound to encounter tactical battles that will test your limits as a soldier in this war game.
The charm of Pixel Arena Game FPS goes beyond the confines of its gameplay modes. Experience the adrenaline rush of fierce multiplayer battles where you can team up with friends and outwit your opponents with superior tactics and better gun skills. It's a thrilling chase for survival amidst modern warfare that adds excitement to the already saturated category of pixel games.
And here's some good news for the lone wolves out there – this game provides an impressive offline mode with 40 levels designed to challenge even the most experienced veterans of survival games. Fight against all odds and prove your mettle as a soldier by withstanding wave after wave of enemy assaults.
In essence, Pixel Arena Game FPS is a haven for fans of war games brimming with action-packed moments that are sure to keep you on your toes. So if you're up for some serious gun battles infused with classic pixel art graphics, make sure this game is on your list!
What are the best online games?