Perfect Sniper 3D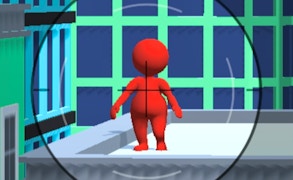 Perfect Sniper 3D
Step into the immersive world of Perfect Sniper 3D, a cutting-edge entrant in the arena of shooting, gun games, and stickman games. It's a hyper-casual, adrenaline-fueled game that skilfully combines sharp-shooting action with intricate strategic planning.
Intricately designed for those who enjoy sniper shooting action, it sets itself apart from other common sniper games through its engaging gameplay and supreme graphics that promise an exhilarating gaming experience. The fusion of gun game mechanics and the aesthetic stickman design is truly commendable.
The pivotal aspect of this game is its simplicity. The aim – to shoot your enemies before they shoot you. But don't be fooled by its apparent straightforwardness; Perfect Sniper 3D demands fast reflexes, deadly accuracy, and clever strategy. A perk? You can blast explosives to wipe out an ensemble of enemies, adding an extra layer of thrill to this fantastic mishmash of skill games.
This game is quite literally a moving target; it keeps raising the bar with each level as you snipe through your enemies, making it harder yet significantly more gripping as you advance.
This isn't just a game but a journey where your skills will be tested at every step. So, if you've got an itch for sniper games or stickman-themed shootouts, Perfect Sniper 3D is the one game you can't afford to miss! Commanding intuitive controls coupled with ingenious gameplay are sure to give even the most seasoned gamers a run for their money. Get ready to lock, load, and launch into a world where every shot counts.
In conclusion, Perfect Sniper 3D harmoniously incorporates elements from various genres – making it more than just another sniper or stickman game. It's simple yet challenging, casual yet captivating – all adding up to create one epic shooting experience that will keep you coming back for more!
What are the best online games?