Penguin Diner 2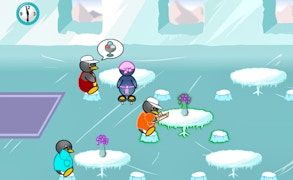 Penguin Diner 2
Welcome back to the frosty world of Penguin Diner 2, the sequel to one of the internet's most beloved cooking games. The charming protagonist, Penny the Penguin, is back home and eager to dish out culinary delights in her very own restaurant.
This follow-up to the popular penguin restaurant game offers not only improved graphics and smoother gameplay but also amps up the strategic elements that fans have come to love. Catering to a variety of polar critters, from seals to walruses, it's a fun addition to animal games.
In a market crowded with management games, Penguin Diner 2 stands out. This is due partly to its quirky concept, but mainly because it deftly merges the frenetic action of cooking and serving food with more strategic considerations such as how to best spend your hard-earned tips. Balancing customer satisfaction against time and resource management creates an engaging gaming experience.
Penguin Diner 2 builds on the first instalment by introducing new features like a broader menu range, interesting customer characters and upgraded restaurant decor. These additions add depth and keep gamers hooked as they strive for that elusive five-star rating.
Any fans of restaurant games will find much to love in Penguin Diner 2: intuitive controls, entertaining visuals, ample strategic decision-making and an endearing lead character create a compelling gameplay experience. Whether you're a veteran restaurateur or an amateur cook in virtual kitchens, you'll want to strap on your apron and step into Penny's bustling diner.
In conclusion, Penguin Diner 2 serves up a tasty dish of addictive strategy gameplay that keeps you coming back for seconds - or even thirds! With its unique blend of cooking simulation and business management, this game is definitely worth checking out.
What are the best online games?