Penguin Cookshop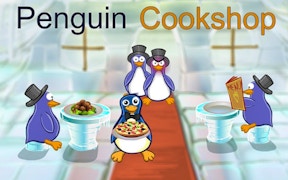 Penguin Cookshop
Immerse yourself in the whimsical world of Penguin Cookshop, a game where Antarctic hospitality and cuisine takes center stage. A novel entry in the bustling genre of restaurant games, Penguin Cookshop allows you to experience the unique challenges of running a diner in the coldest place on Earth.
This delightful strategy game tests your abilities as both a chef and a business manager. Gamers familiar with management games will find themselves right at home amidst the flurry of customers, orders, and ever-ticking clocks. Quick thinking and efficiency are your keys to success as you strive to keep your penguin patrons happy.
In this charmingly illustrated world, our feathered friends take on roles as both customers and waitstaff, lending an adorable twist to conventional animal games. As you navigate through each level, hustle becomes your mantra – the faster you serve your customers, the more money you rake in for upgrades.
Skillfully incorporate elements from cooking games, as mastering recipes and managing time are vital to progress. Whether it's whipping up a fish burger or frying up some squid calamari, your culinary acumen will be put to the test. The delicious pressure of being a hardworking penguin chef is sure to get your adrenaline pumping!
Apart from managing culinary chaos, players also have their hands full with balancing finances. Making smart investments in restaurant upgrades is crucial for success, adding an interesting element for fans of money games.
In conclusion, Penguin Cookshop offers an enchanting blend of strategy, management skills and quick reflexes. This game is not just about running a restaurant; it's about doing so at breakneck speed while keeping customers satisfied and your coffers full. It's a recipe for addictive gameplay that keeps gamers coming back for more!
What are the best online games?