Parkour Rooftop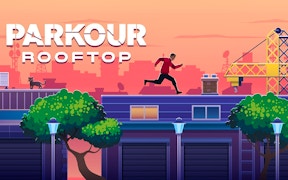 Parkour Rooftop
If you've ever fantasized about leaping across towering buildings like a superhero, then Parkour Rooftop, a thrilling exemplar of running games, is just for you. This high-octane game blazes an inspiring trail in the realm of skill games, combining heart-stopping action with slick parkour mechanics.
Hearken to the clarion call of adrenaline and immerse yourself in the visceral joy of free running. Every tap, every leap, every heart-stopping moment as you hurtle through the open air is beautifully captured in Parkour Rooftop. This game will have your fingers itching; it's not just a tap game, it's an audacious plunge into a world where gravity is merely a suggestion.
Unlike typical clicker games, Parkour Rooftop engages its players with more than mindless tapping. The skillful control needed to land those sick rolls after executing a towering leap speaks volumes about the game's intentional design. You don't just click - you dive, roll, fly.
The feeling of soaring between rooftops, evading obstacles with stylish and fluid movements is intensely satisfying in Parkour Rooftop. It's not just about speed – it's about grace under pressure, swift decision-making, and agility. The title plunges you into an exhilarating fusion of chaos and precision that encapsulates what action gaming should truly be about.
Parkour Rooftop stands as a thrilling tribute to acrobatics and agility. Its graphics are stunningly fluid; its mechanics are intricately woven together to transform your taps into balletic dives and rolls. As far as running games go, Parkour Rooftop reigns supreme – it doesn't set the bar; it vaults over it effortlessly.
What are the best online games?