Parkour Block Xmas Special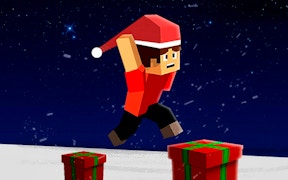 Parkour Block Xmas Special
If you're a fan of pixel games and block games, with a side of holiday spirit, then you'll love the new action-packed Parkour Block Xmas Special. Part of the ever-popular Minecraft Games genre, this game takes on festive elements making it an exciting addition to the trove of Christmas games.
Parkour Block Xmas Special stands out in the crowd of skill-testing games as it takes place right in your browser - available on both your computer and phone. Tailored to satisfy all adrenaline junkies and lovers of classic gaming modes, this game promises thrilling challenges and relentless fun.
A perfect blend of innovative design and classic elements, Parkour Block Xmas Special offers a unique twist to traditional Minecraft Games. The magic starts as you navigate through the pixelated winter wonderland. The intricate block designs coupled with festive graphics make for an immersive gaming experience.
This is not just any Skill Game. Parkour Block Xmas Special pushes your gaming abilities to new limits with different challenges at every turn. Let's not forget the pleasing Christmas theme that makes each level both challenging and festive at once! This game will keep you hooked all season long - or even beyond!
In conclusion, Parkour Block Xmas Special is a unique fusion of action-packed gameplay, captivating graphics, and charming Christmas themes. For those seeking an engaging yet festive addition to their collection of Minecraft Games or Skill Games, I highly recommend trying this gem from the world of browser-based Pixel Games. Get ready for an exhilarating ride in this amazing winter wonderland!
What are the best online games?