Noob vs Zombie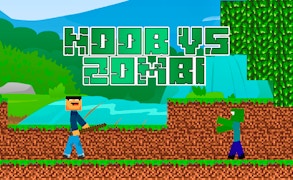 Noob vs Zombie
Description
In the action-packed game, Noob vs Zombie, you'll find yourself navigating intricate labyrinths teeming with diverse zombies and formidable adversaries. The story revolves around a character called Noobik, left to fend against zombies by a traitor. Every biome presents you with a unique labyrinth and an array of challenges to overcome. Your mission? To track down the traitor using coins to purchase weapons, upgrades, and other items hidden in chests.
How to play
The game requires you to master combat, puzzle-solving, and survival skills. Control movement and attacks through your device's interface. As you journey through villages, caves and deserts, dodge traps, evade enemies or eliminate them to collect coins. Use these coins to buy weapons and upgrades. Engagement with inhabitants increases your level up possibilities. Be sure to open chests for bonus items!
Tips and Tricks
To advance through this game swiftly, ensure you prioritize upgrading your weapons. Saving coins is key in this regard. In battles against bosses or Pro, use your higher-level weapons effectively. Also, mastering the art of dodging traps can help preserve your health for more complex challenges ahead.
Features
Multiple biomes each offering unique labyrinths.
A wide range of zombies and enemies.
Plethora of upgradeable weapons available for purchase.
Mysterious chests containing helpful items.
Suspenseful storyline involving Noobik's pursuit of Pro.
What are the best online games?