Noob vs 1000 Freddy's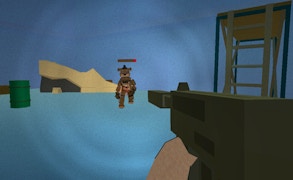 Noob vs 1000 Freddy's
Welcome to the adrenaline-pumping universe of Noob vs 1000 Freddy's, an action-packed journey through the manic world of gun games and battle games. This game expertly blends elements of survival games and pixel games to deliver a gaming experience that's both thrilling and engaging.
In the twisted playground that is Noob vs 1000 Freddy's, you'll find yourself thrust into five intricate maps, each one a distinct world teeming with FNAF villains. Whether you're navigating grimy underground bunkers or deserted urban landscapes, every environment is designed to keep you on your toes.
Every gamer knows that a true battle game experience is nothing without a wide range of weapons at your disposal. Thankfully, this game comes stacked with a killer arsenal. The Desert Eagle offers pinpoint accuracy for those precise headshots; the SMG provides rapid-fire devastation; the Shotgun delivers up-close-and-personal carnage; and the Sniper, Nailgun, Minigun, and Heavy Machine Gun give you the power to obliterate everything in your path.
Explore. Search. Find. But most importantly, survive. Noob vs 1000 Freddy's merges elements from popular tags like zombies, weapons, fnaf, minecraft, and survival to create an immersive gameplay experience. With its pixelated graphics reminiscent of Minecraft and its chilling enemies inspired by FNAF, this game nails the perfect blend of familiar nostalgia and innovative gameplay.
So gear up and dive into the destructive fun that is Noob vs 1000 Freddy's. Whether you're into gun games or survival games or if you're just looking for a relentless burst of action, this battle royale style game is sure to satisfy your thirst for virtual combat. Good luck!
What are the best online games?