Ninja Adventure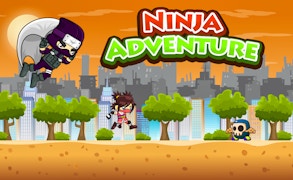 Ninja Adventure
Description
Ninja Adventure, an enthralling HTML5 platformer, offers thrilling encounters with monstrous creatures and demanding level explorations. Set off on a perilous journey as a valiant ninja, collecting coins to boost your score and gems to unlock the next level. Use your deftly trained skills to overcome obstacles and enemies with your trusty sword or deadly kunai.
How to play
Grip the game's controls sturdily to guide your ninja through challenging terrain. Utilize both the sword and kunai to combat monsters. Collecting coins enhances your score while gathering precious gems will grant you access to subsequent levels. Stealth, agility, and strategic planning are vital in successfully completing each level.
Tips and Tricks
Skillful use of weapons is critical for survival. The sword is optimal for close combat while the kunai is perfect for long-range attacks. Keep an eye out for hidden gems; they can often be found in unlikely places. Remember, sneakiness is key; quieter approaches often lead to fewer monster encounters.
Features
A variety of challenging levels teeming with monsters.
Sword and Kunai weapons for versatile combat strategies.
A scoring system driven by coin collection.
Hidden gems unlocking new levels.
A lively characters with robust movement control for an immersive gaming experience.
What are the best online games?