Night Watchmen Stories: Zombie Hospital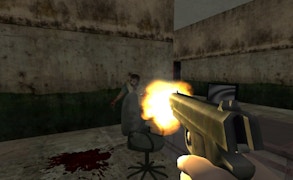 Night Watchmen Stories: Zombie Hospital
Step into the bone-chilling world of Night Watchmen Stories: Zombie Hospital, an exhilarating mix of gun games, scary games, and horror games. This thrilling title plunges you into your worst nightmares as a hospital night watchman, blending elements of escape games, survival games, and zombie games.
You thought your job was quiet, but it takes a hair-raising turn when strange sounds rip through the silence. Before long, you realize the horrific truth that reality and nightmare have melded into one. This is a classic horror story that will keep your heart pounding and your fingers tingling over your controller.
Night Watchmen Stories: Zombie Hospital equips you with six weapons to keep the terror at bay. You have a Bottle, Colt 45, Grenade, Bazooka, Minigun and Shotgun at your disposal. Each weapon provides a unique edge in this survival horror setting, allowing you to blast away at the zombies in a variety of exhilarating ways.
The game controls are incredibly smooth, ensuring an immersive gaming experience. You'll find yourself navigating through the high-quality 3D environment with ease as you confront each new horror lurking around the corner.
The graphics are top-notch providing a believable backdrop for this macabre tale. The gameplay is nothing short of awesome; every moment is packed with suspense and action that will leave you on the edge of your seat.
Come discover why Night Watchmen Stories: Zombie Hospital is praised for its exemplary blend of scary games, gun games, escape games and zombie survival horror genre. This game promises intense action, captivating gameplay - all set against a backdrop that's truly terrifying. Unleash your inner hero today - can you survive till dawn? Only time will tell…
What are the best online games?