Music Tools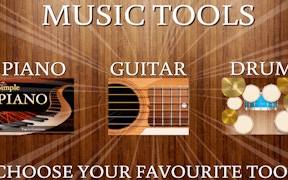 Music Tools
Description
Unleash your inner musician with Music Tools, an interactive music game that lets you play and learn three different instruments. Master the piano, strum the guitar, or bang the drums to create music to your heart's content. Whether you're an aspiring musician or a seasoned professional, this unique online experience from Mapi Games will certainly entertain and challenge you.
How to Play
Playing Music Tools is as simple as pressing the right notes at the right time. Each instrument has its own set of keys for you to play with. You can freely experiment, mix and match sounds to create your own composition. As you progress, your skills will develop and so will your musical prowess.
Tips and Tricks
Dedicate some time to practice each instrument separately before trying to combine them. Experiment with different rhythms and chords to find what you like best. Don't rush - take it slow at first until you gain confidence in your skills.
Features
Multidimensional Gameplay: Pick from three different instruments - piano, drums, or guitar.
Competitive Ranking: Show off your improvement with online leaderboard rankings.
Skill Development: Develop musical abilities as you progress through the game.
User-Friendly Controls: Simple, intuitive controls make it easy for players of all levels to enjoy.
What are the best online games?