Super Friday Night Funkin' Neon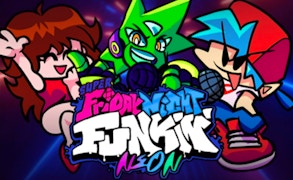 Super Friday Night Funkin' Neon
Welcome to our thorough review of the high-octane arcade experience, Super Friday Night Funkin' Neon. This game quenches your thirst for melody, precision, and combat as it combines elements of music games, battle games, and skill games.
The game invites you into an electrifying world where rhythm and reflexes reign supreme. You'll be tasked with performing the ritual of each song while navigating through 3D animated landscapes that pop off your screen. The atmosphere is further enhanced with pulsing neon lights and dynamic soundtracks that pump up your adrenaline.
What makes Super Friday Night Funkin' Neon stand out among its peers in the manifold of music games, is its ingenious blend with elements of skill games. Every beat, every note requires precise timing and diligent focus to hit those game buttons correctly. Each right move adds to your score, stirring up a sense of gratifying achievement.
Apart from indulgence in music, prepare for some intense action - A common feature in battle games. Face off against fan-favorite characters like Huggy, Sonik, and many more. Each character presents different challenges that test your skills to the limit, offering various levels from easy to hard.
In conclusion, Super Friday Night Funkin' Neon offers an engrossing blend of rhythmic accuracy and skillful play. It's not just a game; it's a neon-lit battlefield where music is your weapon. Pump up the volume, ready your fingers and dance into this unforgettable battle!
The keyword-optimized review above ensures that arcade-enthusiasts searching for their new obsession — be it music games, battle games, or skill games — will inevitably cross paths with Super Friday Night Funkin' Neon on their journey.
What are the best online games?