Friday Night Funkin Hugie Wugie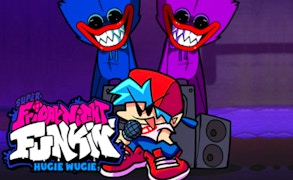 Friday Night Funkin Hugie Wugie
Step into the vibrant world of Friday Night Funkin Hugie Wugie, a stunning addition to the realm of arcade music games. This exciting title introduces a fresh wave in the genre of Skill Games and Hyper Casual Games, promising an unforgettable rhythm-filled experience.
In this game, mastery meets melody as you play through the engaging rituals of each song. The objective is sweet and simple; hit the game buttons at just the right moment. Timing, precision, and rhythm are your keys to victory, turning every level into a thrilling test of skill.
Your beloved characters from previous sagas make a gratifying comeback. Get ready to groove with Huggy, Sonik, and a dynamic lineup of other familiar faces. Each character brings its own unique flavor to the game, ensuring that no two gameplay experiences are alike.
Friday Night Funkin Hugie Wugie is not just a game—it's a musical journey. It offers an incredible blend of catchy beats and addictive gameplay that will keep you coming back for more. As you climb up the leaderboard, amassing points along your rhythmic journey, you'll prove that you have what it takes to be the best in this fantastic music arcade game.
Arcade lovers looking for their next favorite title—with fun characters, compelling gameplay mechanics, and rich musical tracks—need look no further than Friday Night Funkin Hugie Wugie. This hyper-casual game is an absolute must-play for any music or skill game enthusiasts craving innovative rhythm experiences.
In conclusion, Friday Night Funkin Hugie Wugie excels at delivering an immersive gaming experience combining elements of skillful precision and irresistible music beats in one addictive package. So step on beat and dance your way up to triumph in this testament to arcade gaming perfection.
What are the best online games?