Viola the Bird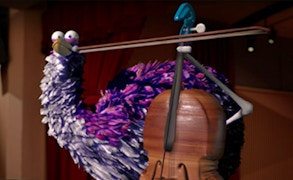 Viola the Bird
Description
Dive into the enchanting world of Viola the Bird, a unique and delightful game where music and arcade gameplay intersect. Guided by machine learning, players can experiment with an instrument inspired by a cello. Unleash your creativity and musicality in this innovative, engaging game created by the talented David Li.
How to play
Control Viola the Bird with simple and intuitive controls that even beginners can get the hang of. Experiment with different sounds and rhythms on the virtual cello, and immerse yourself in this musical journey. The goal is not to win or lose, but to express oneself through sound while enjoying Viola's fluttering adventures.
Tips and Tricks
While playing Viola the Bird, embracing experimentation is key. Try out different sound combinations, learn from them, and develop your own unique melodies. The more you play around with the instrument, the more attuned you become with it and can create complex soundscapes.
Features
Inventive combination of arcade gameplay and music creation.
Friendly user interface that novices can easily navigate.
Motivated by machine learning for a unique gaming experience.
Serves as a platform for creative expression through music.
What are the best online games?