Talking Tom Piano Time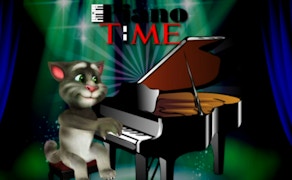 Talking Tom Piano Time
Embark on a delightful melody adventure with Talking Tom Piano Time, the latest sensation in arcade games that successfully merges piano games and cat games into an engaging and entertaining experience.
The game begins with our lovable character, Tom, who aims to serenade his girlfriend with his piano skills. Your task is not merely to ensure Tom hits all the right notes, but also to spruce him up for the occasion. This introduces an exciting twist to typical music games, blending elements of dress up games. The result? A fascinating journey that immerses players into an irresistible world of music, style and feline charm.
Talking Tom Piano Time is majestically crafted in HTML5, offering seamless performance across various platforms. Kids and adults alike will find themselves entranced by the fluid animation, smooth gameplay and expressive character designs that bring Tom and his world to life. It's a real treat for those seeking out new experiences in the realm of piano-inspired arcade gaming.
The game truly shines in its engaging piano sequences. Every note struck adds to a captivating symphony, testing your rhythmical prowess while providing immense satisfaction upon successful completion. Though designed primarily as a virtual piano game, you'll find it resonating with fans of cat games and dress up games due to its diversified gameplay features.
In conclusion, Talking Tom Piano Time is undeniably a trendsetting addition to music games. It celebrates musical exploration while adding a unique stylistic dimension that sets it apart from other cat-themed arcade adventures. If you're on the lookout for something different within the world of piano-based gaming or just want an entertaining arcade experience to unwind after a long day, Talking Tom Piano Time could very well be your perfect match.
What are the best online games?