Muscles Rush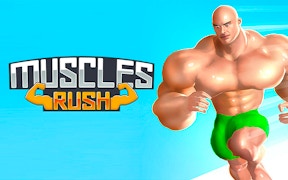 Muscles Rush
Step into the adrenaline-pumping world of Muscles Rush, a game that perfectly merges elements of running games, skill games, and gymnastics games. With its stunning graphics and engaging gameplay, it's one of a kind in the action genre.
The premise is simple yet captivating. Collect your own color dumbbell, develop your physique, and navigate intricate obstacles using your raw muscle power! But this game is not all brute force; it requires dexterity, wit, and strategic thinking. The goal is to outpace your opponents and reach the end line faster than anyone else.
Muscles Rush stands out in its unique integration of different gaming genres. It's not merely an example of running games where you sprint towards the finish line. It incorporates elements from skill games that challenge players' precision and timing capabilities. But what sets Muscles Rush apart from typical action games is its incorporation of gymnastic elements.
Perform spectacular flips, jumps, and tricks using your buff character to maneuver through obstacles. Much like in real-life gymnastics games, your success depends majorly on your timing and precision—making every gym session worth the effort.
You'll need to be agile, responsive, and quick on your feet—or in this case—quick with your fingers! This game demands active engagement with every inch of your path filled with explosive challenges and riveting turnarounds.
In conclusion, Muscles Rush offers a fresh and thrilling experience for fans of running games, skill games, or gymnastics games looking for something different within the action genre. So prepare to flex those virtual muscles because once you dive into the exhilarating world of Muscles Rush—you're in for an unforgettable ride!
What are the best online games?