Muscle Rush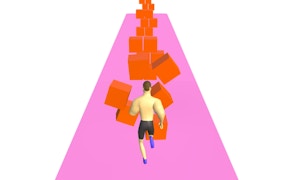 Muscle Rush
Welcome to the world of Muscle Rush, one of the most exhilarating and unique entries in the realm of running games. Here, skill games cease to be drab and monotonous, they burst into life with a jolt of energy and a dash of humor.
You won't just be traipsing along some mundane path - no, you'll be bulking up your avatar's muscles, smashing through walls like a runaway freight train! Remember, here in Muscle Rush it's not just about the journey; it's also about how massively hulking you can get while you dash towards the finish line.
Each level is its own beast, strewn with obstacles that are both menacing and laughably puny. But don't let your guard down! Just because an obstacle seems insignificant doesn't mean it won't pose a challenge. Even the smallest hurdle can trip up a muscle-bound sprinter if they're not careful.
But that's where skill games like Muscle Rush really shine. Using your agility and quick reflexes to weave through these hurdles provides a thrill that few other running games can match. One moment, you're laughing at an easy run, the next moment you're gritting your teeth as you calculate how to duck under or jump over tricky obstacles.
This online 3D game is far from being typical, employing crazy features that will leave players on their toes. The visuals are impressive with every level boasting its own unique setting. The gameplay is straightforward but by no means easy. And the sheer unpredictability just amps up the excitement.
In conclusion, Muscle Rush adds a whole new dimension to running games with its humorous take on muscle building while sprinting. It puts your skills to test with its innovative obstacle designs providing endless entertainment. If you're tired of humdrum running games and want an exciting twist on skill games, Muscle Rush is certainly worth the play time!
What are the best online games?