Mummy Candies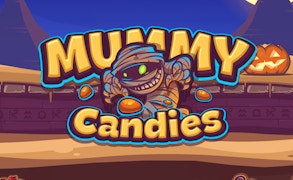 Mummy Candies
Description
Mummy Candies is an exciting action game that is filled with candy-coated fun. Players are presented with visually stunning graphics and captivating music as they steer a mummy through an adventurous journey of collecting candies and lollipops. Watch out! As the levels increase, so does the presence of explosive pumpkins. There are 20 thrilling levels to conquer, each more challenging than the last.
How to play
The controls of Mummy Candies are simple yet requires skill to navigate through the game. Players click or tap to move their mummy around, gathering as many sweet treats as possible while avoiding those menacing explosive pumpkins. Be sure to pace your clicks for optimal maneuverability and catch every candy in your path. The game progression relies on completing levels to unlock new ones with more difficulty.
Tips and Tricks
In order to master Mummy Candies, strategic movement is key. The more candies you collect without mistakes, the better your chances at progressing in the game. Timing your moves perfectly will help you evade the explosive pumpkins which threaten to end your run. Remember: patience, pacing and precision can pave way to a high score!
Features
The main highlights of Mummy Candies include:
Engaging gameplay with vibrant graphics and soothing music.
In-store purchases for enhancing gameplay and improving achievements.
20 progressively challenging levels offering hours of entertainment.
A perfect mix of action, skill, timing and fun!
What are the best online games?