Mr Noob Hook Hero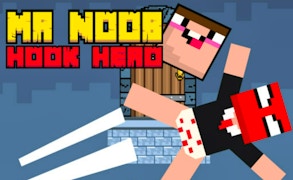 Mr Noob Hook Hero
Unleash your inner champion with the riveting action-packed tap game, Mr Noob Hook Hero. An amalgamation of clicker games, skill games, and survival games, this enticing challenge like no other will have you on the edge of your seat with its thrilling gameplay.
Embark on an exhilarating journey as Mr Noob, a seemingly ordinary character with an extraordinary mission. Donned as a hero, Mr Noob dares to swing across a world filled with lethal obstacles and menacing enemies determined to obstruct your path.
The crux of this game lies in the precise timing of your jumps and swings. The objective is simple yet challenging - grappling onto various anchors throughout each level. It's a test of precision and timing as you hook and swing from one anchor to the next, striving to reach your goal.
However, it's not just a walk in the park. Along the way, treacherous objects lay in wait to impede your progress. Moreover, be wary of the ominous 'pro', an adversary who, upon spotting you, attempts to knock you down! The question that remains is: can you navigate through these perilous hurdles and reach the end of each level?
This captivating free-to-play game available at kiz10.com offers a unique blend of strategy and action that sets it apart from conventional clicker games and tap games. As one part survival game and another part skill game - it requires players to not only perfect their timing but also strategize their moves for survival.
In conclusion, I highly recommend Mr Noob Hook Hero, especially if you're seeking a fresh take on clicker or tap games that challenges your gaming skills while providing non-stop entertainment.
What are the best online games?