Mr Meat House Of Flesh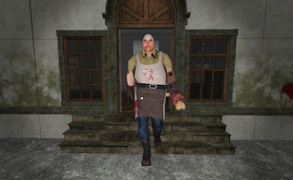 Mr Meat House Of Flesh
Plunge into thrilling horror games as you attempt to survive the fresh nightmare that is Mr Meat House Of Flesh. Thriving in the realm of scary games, this game truly raises the bar for adrenaline-filled survival games. As a player, your primary goal is to rescue a young woman from certain death, bringing an unexpected twist to the typical escape games.
The game opens with an eerie ambiance in a world ravaged by the zombie plague. The stakes are high – no one is safe, not even your neighbor, who now stands undead and thirsty for blood. A prime example of riveting zombie games, this title transforms your neighbor, once a slaughterer, into a soulless monster hell-bent on killing anyone in sight. Creepy mansions and prisons become battlegrounds as you strive to survive against all odds.
The antagonist, known as Mr. Meat, embodies fear in its rawest form. More than just another zombie on the block, he's an executioner looking for his next kill—his house a chilling fusion of haunted mansion and unsettling prison. Your heart will skip a beat every time this gruesome predator comes into view.
Your mission stands clear - rescue an innocent young woman trapped within Mr. Meat's horrific abode before oblivion engulfs her. A deadly game of hide-and-seek ensues, marked by pulsating tension that permeates every nook and cranny of Mr. Meat's dread-inducing living quarters.
Mr Meat House Of Flesh excels at creating palpable fear while keeping players engaged with captivating plot twists and intricate gameplay mechanics—the quintessential blend of horror and action that guarantees bone-chilling moments at every turn. Winning escape is only half the victory; survival against bloodthirsty zombies challenges your wit and courage at every step.
A terrifyingly gratifying experience awaits all aficionados of horror and survival games with Mr Meat House Of Flesh. Face your fears head-on, confront the menacing Mr. Meat, save the captive girl—I challenge you to survive this macabre spectacle!
What are the best online games?