Mr Jack vs Zombies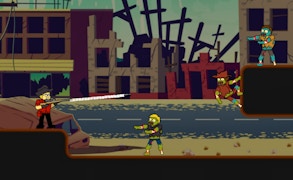 Mr Jack vs Zombies
Immerse yourself in the apocalyptic universe of Mr Jack vs Zombies, one of the best gun games that skillfully intertwines thrilling shooting mechanics with engaging puzzle-solving. A unique amalgamation of the popular zombie games and monster games genres, this game genuinely stands out in an oversaturated market.
The USP of Mr Jack vs Zombies lies in its incredible physics-based shooting mechanics. The meticulous attention to detail and accurate depiction of projectile motion will captivate any enthusiasts interested in shooting games. Whether you are a seasoned sharpshooter or a casual gamer, the adrenaline-fueled gunplay is bound to keep you on your toes.
The game's setting doesn't just rest on pure shoot 'em up action; it's also about wracking your brains. The challenging puzzles sandwiched between the relentless onslaughts of undead will push your strategic skills to their limits. The duality between raw firepower and problem-solving is what sets Mr Jack vs Zombies apart from run-of-the-mill zombie games.
In terms of aesthetics, Mr Jack vs Zombies packs a high-quality visual punch. Get ready to be amazed by its impressive graphics, immersive soundtrack, and intricate level designs that add an extra layer of depth to this engaging blend of mind-boggling puzzles and heart-thumping firefights.
If you're searching for a game that seamlessly combines elements from both action-packed gunplay and intellectually stimulating puzzles set against the backdrop of a zombie-infested world, your quest ends here. Step into the shoes of Mr Jack now and embark on an unforgettable gaming journey!
To sum it up, if it's top-tier action you crave with a side order of cerebrum-sizzling challenges, then hurry up and play Mr Jack vs Zombies. It's more than just another addition to an endless list of zombie/monster gun games; it's a benchmark-setting experience well worth your time.
What are the best online games?