Mr. Hunter 2D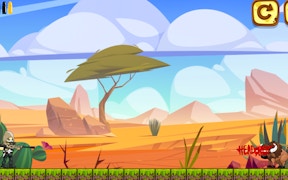 Mr. Hunter 2D
If you are a shooting enthusiast, then Mr. Hunter 2D should be your next gaming obsession. In the realm of gun games, sniper games and hunting games, Mr. Hunter 2D carves its own niche with a seamless blend of excitement and diversely challenging levels.
What sets Mr. Hunter apart from other hunting games is its stunning 2D graphics that lay down a well-detailed backdrop for every mission. Every encounter is unique, transforming the player into an experienced huntsman maneuvering through the levels with skill and precision.
The game offers an impressive variety with 50 meticulously designed levels where you get to battle different enemies, literally keeping you on your toes (or should we say fingertips?). But don't be fooled by the 'casual shooter game' tag - each level is engineered to test your aim, timing and strategy skills, truly earning its place in the category of skill games.
Fans of sniper games won't be left disappointed either - sure, it's not your traditional sniper game with gritty 3D environments and bleeding-edge gun models - but it does bring in all the thrilling elements like advanced enemy AI and perspective gameplay that will test your calculation and patience.
The gaming experience on Mr. Hunter 2D is one that grows on you - it starts off as a casual escapade but slowly evolves into a highly engaging affair where every level snags your attention more than the previous one. It's about time you gave this game a shot (pun intended)!
All said and done, if you're hunting for some high-octane fun in the world of gun games with a mix of sniper action thrown in, then gear up for some shooting fun with Mr. Hunter 2D. Play it now!
What are the best online games?