Mosaic Puzzle Art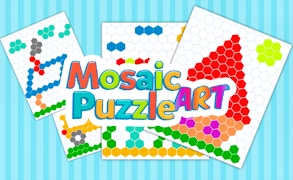 Mosaic Puzzle Art
Description
Step into an artistic world with Mosaic Puzzle Art, a game that challenges your imagination and tests your puzzles solving skills. Engage yourself in various intriguing images, setting different difficulty levels for both experienced and new players. With every puzzle completed, you'll find yourself creating a beautiful piece of mosaic art.
How to Play
To play the game, simply click or tap on color tiles and drag them to their correct position in the mosaic puzzle. The game advances as you complete each image, increasing the number of tiles and complexity. The main goal is to match every tile correctly, creating a stunning picture at the end.
Tips and Tricks
Patience is key when playing Mosaic Puzzle Art. Study the puzzle pattern before placing tiles. Start off with lower difficulty levels to get the hang of it. Be sure not to rush through levels; take your time to enjoy the process of creating your beautiful art.
Features
Variety of Images: A broad spectrum of patterns and images keep users engaged.
Innovative Controls: Easy drag-and-drop interface makes playing a breeze.
Different Difficulty Levels: Caters to both casual gamers as well as puzzle pros.
Improves Creativity: Enhances imagination while providing hours of fun.
What are the best online games?