Draw Defence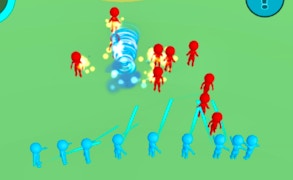 Draw Defence
Immerse yourself in the rich and vibrant universe of Draw Defence, a dynamic entry in the world of battle games. With a stroke of your pencil, transform your doodles into valiant soldiers ready to defend your castle against relentless enemies.
It isn't just an ordinary tower defense game. Draw Defence takes the engaging mechanics of sword games and archery games, then ingeniously intertwines them with the interactive elements of drawing games. From samurai warriors with gleaming katanas to archers with their bows strung taut, you're in total control. Let your creative streak run wild as you draw different lines and watch as they materialize into various troop variants on the battlefield, each equipped with unique abilities to tackle enemy forces.
The crux of Draw Defence lies in its simplicity merged with profound strategy. While it may seem straightforward at first glance, rest assured that this game is designed to test both your tactical prowess and sketching skills. Despite hordes of enemies growing stronger each wave, fear not! The power to overcome is quite literally in your hands. Upgrade your gear, refine your troop summoning drawings, and prepare for an enhanced battle experience.
Oh, but don't think this is a rinse-and-repeat affair. As the game progresses, you'll find that enemies adapt and evolve, forcing you to continually tweak your battle strategy and encouraging you to create more diverse soldier types - highlighting the immense replay value Draw Defence has to offer.
To sum it up: whether you're a fan of battle games, archery games, sword games or drawing games - there's no better time than now to pick up that pen (or stylus) and dive into the enthralling world of Draw Defence. A masterpiece that seamlessly merges artistry and warfare while testing both wit and dexterity!
What are the best online games?