Draw Fighter 3D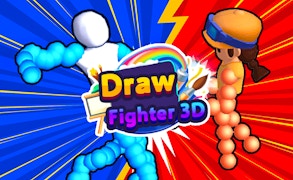 Draw Fighter 3D
For all those seeking that perfect blend of boxing games, battle games, and drawing games, your quest ends with Draw Fighter 3D. This supremely fun game integrates a unique mix of strategy, creativity, and combat in an immersive 3D environment, making it one of the most engaging fun games available online.
Fueled primarily by your imagination, Draw Fighter 3D allows you to customize your own strong fighter, drawing each component as per the enemy's equipment. Not confined to the traditional means of game progression, this game encourages creativity and strategic thinking at every level. From designing defensive shields to crafting destructive weapons, you can use a plethora of powerful components to overturn your adversaries.
The richness of the content is undoubtedly one of the reasons why this game stands out among similar titles. Integrating a variety of distinct scenarios, Draw Fighter 3D offers far more than just repetitive fight sequences. Each scene is carefully crafted to fuel anticipation and surprise, making every level a new adventure.
The gameplay in Draw Fighter 3D is not only interesting but also wonderfully exciting. Providing an array of complex challenges wrapped in fun interactions, this game takes you on a thrilling journey that is both unpredictably chaotic and satisfyingly strategic.
In conclusion, if you're searching for an exciting blend of boxing and drawing mechanics packaged into one thrilling battle game, then Draw Fighter 3D should be at the top of your list. With its creatively rich gameplay and immersive content, it's not just another online fun game—it's a revolutionary experience that redefines what it means to be a fighter in the world of gaming!
What are the best online games?