HelloKids Color By Number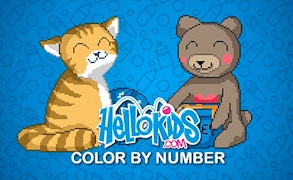 HelloKids Color By Number
Unleash your creativity and embark on a digital painting journey with the captivating HelloKids Color By Numbers. This game perfectly combines the thrill of coloring games, the educational benefits of number games, and the joy of drawing games all in one interactive platform deemed perfect for kids.
Whether you are a beginner setting out on your artistic journey or an aspiring little Da Vinci, HelloKids offers an experience unlike other Games for Kids. The game is not just about filling in your favorite shades; it also doubles as an exciting number-based puzzle that keeps your mind engaged and stimulates your cognitive development.
The game boasts a generous gallery teeming with diverse images waiting to be transformed into vibrant works of art. Each image is segmented into tiny tiles labelled with numbers, and each number corresponds to a specific color. The challenge lies in accurately matching the numbers with their respective colors, setting into motion the magic of bringing dormant pictures to life.
The beauty of this game is reflected in its simplicity. It encourages users to delve deep into their pockets of imagination while effortlessly teaching them the correlation between numbers and colors. The ease-of-use interface makes navigation through the game a breeze even for the youngest players, truly making it a well-thought-out drawing game.
In conclusion, HelloKids Color By Numbers proves to be more than just an ordinary coloring book. It is an amalgamation of fun, learning, creativity and interactivity all rolled into one impressive package. For those seeking a unique spin on traditional coloring and drawing games for kids, look no further than HelloKids Color By Numbers – it promises a riotous splash of colors, numbers, and endless merriment!
What are the best online games?