Mortal Squid Games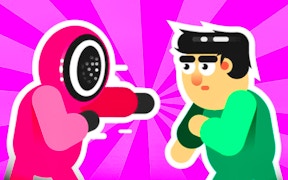 Mortal Squid Games
Welcome to the exhilarating world of the Mortal Squid Games, a captivating amalgamation of running games, escape games, skill games and survival games. Based on the immensely popular Korean TV series, 'The Squid Game', this action-packed game challenges your tenacity and agility both physically and mentally.
Start off as a player, with one primary objective - accumulate all the money. To do so, you need to master six distinctive rounds each more challenging than the other. The rounds include 'Red light - green light', 'Sugar Honeycomb', 'Tug of War', 'Balls', 'Glass Bridge' and the blood-curdling final round, 'Knife Fights'. The stakes get higher at every level creating an immersive experience that's sure to keep you on your toes.
The heart-pounding excitement starts right from the intense 'Red Light - Green Light' round that will push your reflex skills to their limit. As an integral part of this deadly escape game, your focus is tested big time. Following this is the 'Sugar Honeycomb' round, a particularly unforgiving skill game that requires steady hands and a great deal of patience.
The adrenaline-pumping Tug of War match will put your virtual strength to test while survival becomes key in the tricky and treacherous 'Balls' phase. Moving forward you face one of the most challenging stages in any running game - the fateful 'Glass Bridge'. Mastering it takes not just good hand-eye coordination but also sharp decision-making skills.
The conclusive phase is possibly one of the most thrilling points not only in escape games category but across all gaming platforms: The deadly 'Knife Fights'. Survival instinct kicks into overdrive as victory culminates into becoming ultimate squid game champion while defeat spells absolute doom.
In conclusion, Mortal Squid Games lives up to its name by providing action-packed entertainment through expertly crafted levels combined with intense gameplay mechanics that not only stimulates your senses but keeps you craving for more. If you're a fan of running games or survival games with high-stakes play and nail-biting excitement, then Mortal Squid Games needs to be at the top of your must-play list!
What are the best online games?