Monster Shooter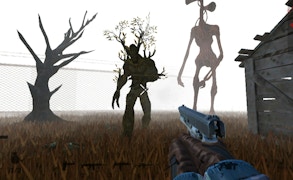 Monster Shooter
Welcome to the haunted wilderness of Monster Shooter, a shooting game that combines elements of gun games, sniper games, hunting games, battle games, monster games, and zombie games to deliver an immersive gaming experience.
Monster Shooter invites you on a heroic mission: to clear a desolate, fog-ridden territory teeming with monstrous mutants and camouflaged tree monsters. Get ready to hunt these eerie beasts down in this riveting amalgamation of hunting games and battle games. Your primary target is the fearsome Lilac Head – scout it out and obliterate it to keep the world safe.
Your survival kit includes a robust selection of weapons – each more deadly than the last. From the traditional pistol and machine gun to the sonic ultrasound weapon; from classic grenades and shotguns to a bone-chilling sniper rifle; every weapon in your arsenal is designed for maximum destruction – an essential feature in all great gun games and sniper games.
But Monster Shooter isn't just about eliminating targets – it's about surviving against nature's most terrifying creatures. Drawing inspiration from popular monster games and zombie games, Monster Shooter puts you against diverse lifeforms – each more horrifying than the last. Whether its monstrous mutants or relentless tree monsters – every encounter tests your skills and courage.
In conclusion, Monster Shooter throws you into an intense world of Battle Royale meets monster apocalypse. It encapsulates all that we love about shooting games: adrenaline-fueled action, diverse weaponry, strategic gameplay, and extraordinary foes. If you're a fan of shooting games that blend elements from gun games, sniper games, hunting games, battle games, monster games or zombie games – Monster Shooter promises an adventure you won't forget.
What are the best online games?