Monster Dragon City Destroyer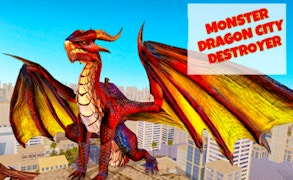 Monster Dragon City Destroyer
Immerse yourself in the expansive realm of Monster Dragon City Destroyer, a dynamic fusion of dragon games and city building games, amalgamated with flying games to facilitate a rich user experience. This compelling action game invites you on a journey of power and retribution, revisiting the forgotten past through an incendiary flying attack.
The game's quintessence lays in its core mechanics - an exhilarating mix of dragon city attack games and battle games. Reclaim your forgotten superpowers once celebrated across the majestic landscapes of city dragon games. The severe attack of flying attack city dragon games is an exceptional feature that allows players to seize control and assert their dominance over the chaotic cityscapes.
In Monster Dragon City Destroyer, each action resonates with your tactical prowess. The intuitive control system incorporates WASD or arrow keys for movement, ensuring smooth navigation reminiscent of the best dragon flying games. Moreover, executing devastating fire attacks is as simple as a left mouse-click - a straightforward mechanic that nonetheless requires strategic planning and dynamic reactions.
This action-packed extravaganza effortlessly interweaves elements from various genres. If you're fond of dragon games or if your heart pumps for city building games, Monster Dragon City Destroyer will satiate your gaming appetites. Dabble in battle strategy within the fiery confines of epic dragon battles, or revel in flight freedom typically seen only within specialized flying games.
In conclusion, Monster Dragon City Destroyer offers a deeply engaging experience blending complex strategy with explosive action. This game stands as a testament to grand dragon city attacks and intense battles where players' choices hold profound consequences. It's an enduring symbol of authority steeped in power, battle strategy and aerial supremacy within the world of dragon city games.
What are the best online games?