Modern Combat Defense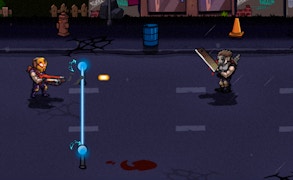 Modern Combat Defense
Unleash your inner warrior with Modern Combat Defense, a masterstroke in the realm of gun games, offering a thrilling mix of strategy and battlefield action. This game stands distinguished amid an ocean of war games, exuding an addictive charm that keeps you glued to your screen.
Moulded with an intense blend of pace and precision, Modern Combat Defense challenges you to defend your base against waves of unrelenting enemies. This is war, so players must be prepared for an avalanche of adrenaline-pumping action and strategic warfare that will test their mettle in the most riveting ways.
In this game, annihilating the bad guys can never get monotonous; wander into the fascinating upgrades section and prepare to be awestruck by an array of lethal weapons waiting to be unlocked. The prospect of growing stronger as you delve deeper into the game's warfare ecosystem is simply tantalizing. The challenging battles against gigantic enemies seamlessly blend elements from both war games and robot games, enriching players with a uniquely gripping gameplay experience.
If you're seeking a real-time strategy shooting game that offers more than just run-of-the-mill combat, Modern Combat Defense is undoubtedly for you. With its tantalizing plot and immersive gameplay, it guarantees sheer thrill every second. Here's a chance to turn your guns on, strategize your defense, and prove yourself as the ultimate survivor in this modern warfare extravaganza.
In conclusion, Modern Combat Defense promises an unbeatable blend of strategy and excitement. Whether you're a veteran or a newbie in shooting games genre, here's an opportunity to take up arms, lock, load and dive headfirst into one of the most stimulating gun games available today.
What are the best online games?