Mineworld Horror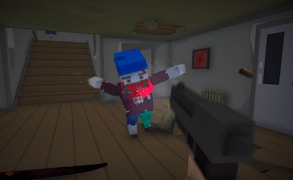 Mineworld Horror
Enter into the haunting, pixelated world of Mineworld Horror, a gripping blend of shooting, survival, and escape games. Exclusive to kiz10.com and entirely free to play, this horror game plunges you into an immersive adventure teeming with heart-stopping moments and bone-chilling scares.
The story unravels an adorable Minecraft-inspired character who finds himself stranded in a sprawling mansion, simmering with dread and permeated by an atmosphere of sheer terror. This isn't just another run-of-the-mill gun game, this is a nerve-jangling journey where every moment is a fight for survival against horrifying monsters that lurk in the dark, ready to pounce at any given opportunity.
Beyond its spooky veneer, Mineworld Horror stands out in the realm of pixel games with its intricate gameplay mechanics. The balance between evading enemies, managing your limited resources, and strategizing your escape paths make this game a riveting experience that keeps you on your toes from beginning to end. The charm of pixelated graphics juxtaposed against the intense horror elements lends an added layer of eeriness that sets it apart from other scary games.
Although Mineworld Horror thrives on inducing fear and building tension, it never compromises on the fun factor. As a player, you're constantly challenged to think smartly under pressure as you navigate through labyrinthine corridors filled with unknown terrors. It's a high-stake hide-and-seek where victory tastes sweetest when earned after many close shaves with death.
In summary, Mineworld Horror delivers on all fronts as a captivating blend of horror survival and shooting gameplay that will test your mettle as you strive for survival. Its distinctive aesthetic style and intense gameplay dynamics make it a must-play for fans of horror and pixel games alike.
What are the best online games?