Mineblox Apple Shooter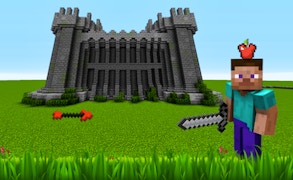 Mineblox Apple Shooter
Welcome to my action-packed review of the wonderfully unique game, Mineblox Apple Shooter. This exciting fusion of archery games and pixel games sets you on a mission where your precision and patience will be pushed to the limit!
For arcade lovers who are constantly on the lookout for a fun yet challenging game, Mineblox Apple Shooter blends all your favourite components from skill games and Minecraft Games. It is essentially a love letter to all players who have an affinity for those adrenaline-pumping moments when their game hinges on a single move.
The game-play is simple, yet intensely captivating! Your primary goal? Shooting an apple off Steve's head without hitting him. It's as thrilling as it sounds! This refreshing take on action-oriented archery games offers players an adventurous experience that continues to grow more entertaining with multiple replays.
Mineblox Apple Shooter is an irreplaceable addition to your collection of Minecraft Games. It prides itself in its beautiful pixel art, reminiscent of classic games but with a modern twist that will leave the most hardcore gamers nostalgic. The graphics are sharp, colorful and engaging, bringing smiles to both adults and kids alike.
In the realm of Skill Games, this gem stands tall due to its exceptional demand for accuracy and dexterity. No two turns feel the same as the unpredictable physics keep you on your toes throughout your play-through. You can't just go in guns blazing (or bows in this case); it requires careful planning, making it one of the standout features of this enticing game.
In conclusion, if you are a fan of pixel games or skill-filled archery games, or better yet – both; then Mineblox Apple Shooter is undoubtedly a game you should dive right into. Let's see if you have what it takes to master the art of archery in this thrilling game!
What are the best online games?