Merge and Fly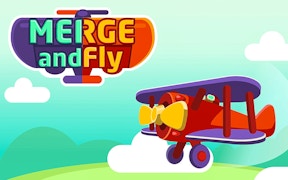 Merge and Fly
Introducing Merge and Fly: a unique blend of airplane games, clicker games, and tap games that offers players an unparalleled gaming experience. As the title suggests, the main gameplay revolves around merging two planes to upgrade your airplane model, and then letting them fly to earn you coins.
From day one of your exciting role as an airport runway operator, you're immersed hands-on into this action-packed game. Merge and Fly gifts gamers with a runway, a few airplanes and a dream: build up a fleet of high-quality, high-earning aircraft for your thriving airport business. Each plane click or tap is a step towards optimizing your planes for maximum coin accumulation.
The game's well-designed shop allows for strategic upgrades to increase earning capacity, speed up planes, and enhance airplane quality. It's not just about mindless clicking or tapping; Merge and Fly asks players to execute thought-out strategies to manage their business effectively and efficiently.
In the world of airplane games, Merge and Fly stands out with its fun twist on the genre. Combining the engagement of clicker games with the strategic planning inherent in tap games, it provides a captivating gameplay experience for casual gamers and aviation enthusiasts alike.
Judging by its addictive gameplay, stunning graphics, immersive strategy components, and innovative merge mechanics - Merge and Fly is surely soaring high in the realm of action gaming. This isn't just another airplane game on the app store; it's a flight simulator-meets-business-strategy game that will keep gamers hooked for hours on end!
In conclusion, if you are on the hunt for action-packed airplane games or have an affinity for both clicker and tap games – Merge & Fly should be your next gaming adventure.
What are the best online games?