Mentally Disturbed Grandpa: The Asylum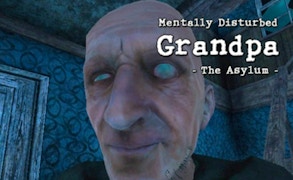 Mentally Disturbed Grandpa: The Asylum
Take a deep breath and prepare yourself to embark on a chilling adventure, as I delve into the mechanics of one of the most intense horror games to hit the scene, Mentally Disturbed Grandpa: The Asylum. This title is not just another addition to the growing genre of granny games, it's an immersive experience that will have your pulse pounding and your wits tested.
If you're a fan of survival games, this one's for you. You play as a reporter, helming a narrative rife with tension and mystery. But this isn't just about surviving - it's also an escape game. From the onset, you're trapped in a bone-chilling asylum by a deranged grandpa with unknown secrets hidden away. The game has designed its atmosphere so expertly that every creaking door and disturbing laughter makes for an exceptional scary gaming experience.
The setting is truly uncanny, every corner bristles with latent horror. The character design is strikingly detailed, making each encounter with our malevolent grandpa genuinely unsettling. The gameplay mechanics amplify the ghastliness of the asylum as they force you into stealthy navigation while deciphering clues to uncover Grandpa's secret.
It's not surprising to see why gaming pundits are hailing it as one of the best scary games out there. It offers more than just jump scares - it keeps you on edge with its chilling audio cues and a difficulty curve that'll keep you hooked.
Mentally Disturbed Grandpa: The Asylum doesn't shy away from delivering intense moments of terror. It stands as an excellent addition to both the escape and survival genres whilst redefining granny gaming norms in terms of overall fright-factor.
This game seamlessly intertwines the elements of suspense, secrecy, survival, and horror. Giving gamers an adrenaline-filled ride that will test their nerve at every turn. If horror gets your heart racing and stealthy escapes set your nerves tingling - don't look any further; Mentally Disturbed Grandpa: The Asylum won't disappoint.
What are the best online games?