Mcraft Cartoon Parkour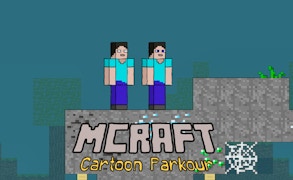 Mcraft Cartoon Parkour
Description
Immerse yourself in the pixelated world of "Mcraft Cartoon Parkour". This colorful, cartoon-style game brings together the best elements of survival and adventure. Players are placed in a block universe with amusing characters, where they must defend their territory and complete quests. The overarching objective is to collect essential diamonds and find the portal that leads to the next level.
How to Play
To play this game, use your keyboard controls to navigate through the world. Cooperation with your friends is crucial for success. You need to work hand in hand, collecting diamonds, mitigating threats, and using resources wisely. Your primary goal is to gather enough diamonds to gain access through the door leading to the next exciting phase.
Tips and Tricks
To excel in this adventurous journey, staying vigilant is key. The game poses various hazards which you need to dodge swiftly. Strategize your moves; don't rush into gathering diamonds without a plan. The art of survival lies within quick reflexes and teamwork in this action-packed milieu.
Features
The following features make Mcraft Cartoon Parkour a standout game:
Action-packed Adventure: Offers thrilling gameplay filled with challenges at every turn.
Minecraft-like Aesthetics: Engages players with its vibrant, blocky graphics reminiscent of Minecraft.
Anime Infused Characters: Creates a unique blend of pixel art and anime styles.
Cooperative Gameplay: Ensures fun-filled team play with friends or other online players from around the world.
What are the best online games?