Masked Forces 3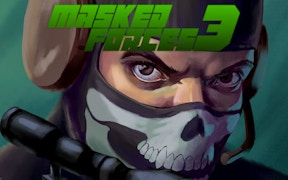 Masked Forces 3
Step into the thrilling world of Masked Forces 3, a game that combines the most loved elements from top-rated gun games, sniper games, and popular war games. As an ultimate FPS simulation, Masked Forces 3 is not just about surviving; it's about thriving in the heat of battle!
The game immerses you in fast-paced 3D first-person shooting action, putting your survival skills to the test. You are thrown into the heart of danger with immersive game modes like deathmatch, team deathmatch, battle royale, and DOOM. Proving your mettle in these intense battle scenarios is a challenge that any fan of battle games or survival games would love.
The feature to add bots in the room ups the ante and forces you to adapt quickly or get outclassed. Navigate through highly detailed large maps, collecting power-ups such as regeneration and damage boosters, or gain unlimited dash and shield for tactical advantages.
A unique element of Masked Forces 3 lies in its level system. As you progress, you gain access to 11 lethal weapons along with their skins. This brings a strategic edge to this war game as each weapon can turn the tide of battle in your favor.
The cherry on top is the armor and mask customization feature. Not only do you tackle your enemies head-on, but also do it in style! So gear up soldier, because Masked Forces 3 is a thrilling ride filled with adrenaline-pumping moments that will keep any trigger-happy gamer hooked!
What are the best online games?