Martian Alien Combat Multiplayer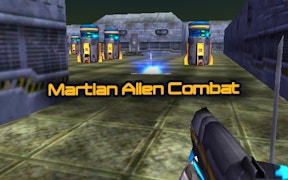 Martian Alien Combat Multiplayer
Step right into the epicenter of extraterrestrial warfare through one of the most immersive gun games, Martian Alien Combat Multiplayer. This adrenaline-pumping fusion of survival games and battle games takes you on a heart-thumping journey through alien-infested Mars, ingeniously blurring the lines between zombie games and monster games,.
The plot is refreshingly apocalyptic: aliens have mounted an assault against our galaxy, and it's up to us to stand our ground. The game dynamically unfolds across diverse Martian terrains, offering both intrigue and strategic advantage. Yet, Mars is just the beginning; war will bleed into other realms, adding layers of complexity to this multiplayer masterpiece.
No ordinary gun game, Martian Alien Combat Multiplayer offers a rich arsenal of weapons that keeps even the most prolific gamers engaged. Carefully designed for fans of sniper games, it ensures your precision shooting skills are put to test in more ways than one.
The game perfectly embraces the spirit of survival games. The high stakes of alien warfare require not only sharp shooting but also survival tactics- from resource management to establishing defensive parameters. Moreover, the title delivers on its promise to be more than just a war game; it's a battle for survival against otherworldly monsters, reverberating with elements from both zombie and monster games.
In essence, Martian Alien Combat Multiplayer is an electrifying blend of various genres that guarantees hours of non-stop gaming action. Unravel unique challenges at every turn as this war evolves from a tactical defense maneuver on Mars to a full-blown universal conflict. If you love gun games, sniper games or simply relish in the thrill of survival and battle games with a dash of monstrous horror, this game should definitely be on your radar.
What are the best online games?