Little Farm Clicker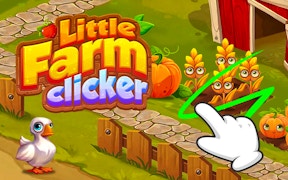 Little Farm Clicker
Welcome to our review of the engrossing farming strategy experience, Little Farm Clicker. This addictive entry into the realm of city-building games and farm games draws you in from the first click and doesn't let go.
Little Farm Clicker, as a part of the clicker games genre, requires a fair share of tapping. But worry not, your efforts are rewarded with rich gameplay that boasts an array of crops to plant, cute animals to raise, and fresh produce to sell. This is not just a game about relentless clicking; it's a game that requires strategic planning and effective resource management.
The real charm of Little Farm Clicker lies in its cleverly designed management games mechanics. As your farm grows, so do the challenges. Balancing between crop production, livestock rearing, and market demand transforms this serene farm setting into an engaging agricultural hub.You'll find yourself strategizing on how best to allocate resources and maximise profits - all while enjoying the pleasantly idle nature inherent to idle games.
The prosperity of your little farm is directly tied with how much you engage with it. The more you click, the more you reap! From deciding what crops to sow to choosing which animals to raise, every decision impacts your bottom line. In true city-building style though, success also relies on careful expansion planning.
In conclusion, Little Farm Clicker, with its blend of simple yet addictive clicker mechanics and sophisticated management gameplay, sets itself apart as a worthy contender in the strategy game field. Whether you're new to such games or a seasoned player looking for their next challenge, Little Farm Clicker is sure to captivate with its delightful farm-life simulation. So, ready your green thumb and embrace your inner farmer in Little Farm Clicker!
What are the best online games?