LA Shark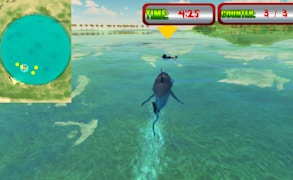 LA Shark
Ready to test your underwater predator instincts? LA Shark, the latest sensation in the action-packed world of sharks games, hunting games, and fishing games, is just the thrilling experience you need to indulge in! This game is a delightful mix of adventure and action that will take your gaming experience to new depths.
The premise of LA Shark is as simple as it is gripping. The City of Angels has an unseen visitor - a very hungry shark with a taste for adventure. You play as the shark, prowling the waters, waiting to strike. Your prey? The unsuspecting residents of LA!
The gameplay employs the use of arrow keys for moving your character - the hungry shark, and the space bar for diving underwater. It's so simplistic yet absolutely fulfilling. You are not just playing a game; you are living a double life as an apex predator in a concrete jungle.
In an ocean full of bland hunting games, LA Shark stands out like a gleaming sharp-toothed grin. The game doesn't merely satisfy your thrill-seeking needs but goes even further by providing epic visuals under and above water, captivating sound effects that will resonate through your senses and incredibly addictive gameplay mechanics. This game caters to every shark enthusiast craving for some sea-food diet- people!
All in all, LA Shark is far more than another addition to your routine collection of sharks games or fishing games; it's an escape into an intense, adrenaline-pumping world beneath the waves where you're not just surviving; you're thriving! Jump into this oceanic adventure and let off steam on this exhilarating joyride through LA.
Remember; in this world - eat or be eaten! So gear up for some high-octane action with
LA Shark
. Your hunting season starts now!
What are the best online games?