Kitten Hide And Seek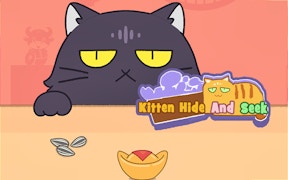 Kitten Hide And Seek
Fellow gamers and cat lovers, Kitten Hide And Seek is the new wave of excitement sweeping the action gaming scene as it ingeniously blends the popular genres of clicker games, tap games, running games, and escape games. This gem should not be overlooked!
At its core, Kitten Hide And Seek is a unique fusion of multi-genre mechanics that makes it feel like a breath of fresh air in the world of action games. It masterfully incorporates elements from different gaming genres, making it an irresistible lure even for those who claim not to be fans of cat games.
For lovers of Tamagotchi or green light red light, this game will feel like coming home. The game's goal is to help a little girl successfully escape while evading detection by a keen-eyed kitten. This element of suspense infused with an adorable ambiance makes the game appealing not just to kids but also to those who are young at heart.
The exhilarating pace and urgency inherent to running games and escape games are carefully woven into Kitten Hide And Seek's exciting gameplay to keep players constantly on their toes. Additionally, victory in each level brings along with it props that can be used to decorate your room, adding a fresh layer of interactivity and personalization to the player experience.
This puzzle online game boasts simplicity without compromising on fun or engagement, making it one among standout clicker games. In addition to this, Kitten Hide And Seek is also available for free making it undeniably an irresistible deal.
To sum up, whether you're an action game enthusiast or just someone in search for a thrilling yet cute distraction, Kitten Hide And Seek is a must-try feather in the illustrious cap of cat games. Remember – fun lies in the chase. Now go ahead and give it your best shot! Will you help the little girl escape? Only time (and your clicking speed) will tell!
What are the best online games?