Kings Clash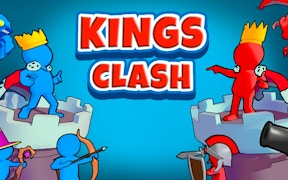 Kings Clash
Prepare to unleash your inner warrior and dive headfirst into the adrenaline-pumping world of Kings Clash, a new high-stakes addition to the realm of action-packed battle games. Whether you're a seasoned veteran of the genre or an enthusiastic newcomer, this game will grab you by your metaphorical shield and refuse to let go.
As a player, your mission is simple: conquer the world. Sound daunting? Fear not. Kings Clash equips you with a diverse arsenal of combat strategies. From adrenaline-fueled sword games, skill-demanding archery games, to strategy-based stickman games; there's no shortage of tactics for you to master on your path to global domination.
Making use of clever mechanics, such as merging minions to create heroes, adds a level of depth and replayability that truly sets Kings Clash apart from other titles within the genre. Developing your own army and tactically deciding when and where to deploy your forces creates an addictively strategic layer to this game's already enticing experience.
If captivating gameplay wasn't enough, Kings Clash strays into uncharted territory with its immersive storyline that truly brings its pixelated world to life. The world isn't going to conquer itself; it takes grit, fortitude, and strategic mastery. So why hesitate? Embark on this epic journey now and solidify your reign in the annals of gaming history.
In conclusion, Kings Clash is not just another game - it's a remarkable blend of fast-paced survival games and strategic warfare that'll keep you hooked for hours on end. One thing is sure: in the riveting universe of Kings Clash; only the strongest will survive!
What are the best online games?