Killer City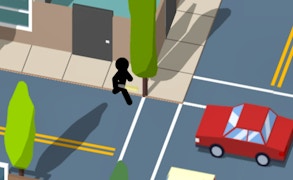 Killer City
In the adrenaline-fueled world of Action genre, emerges a dynamic mix of survival, stickman, and car games – Killer City. The sequel to the well-received Stick City, Killer City enhances the classic stickman games scenario with a thrilling twist of survival games and gun-toting action.
The premise of Killer City is a riveting one: stay alive amidst an urban sprawl teeming with ruthless killers and hostile vehicles. This theme gives the game a distinct touch within the car games genre. It isn't about winning races or customizing vehicles – it's about using them as tools for survival.
The introduction of defensive weaponry such as baseball bats injects an element typical to gun games, offering players a fighting chance amidst the sprawling chaos. This lethal accessory not only helps defend yourself but also intensifies your race towards surviving and gathering as much cash as possible.
Killer City boasts immersive gameplay that keeps players glued to their screens, constantly strategizing on how best to navigate through its pulse-pounding challenges. It clearly draws inspiration from popular stickman games. Yet, it enhances this legacy by combining elements of car and gun games thereby crafting an experience that is both excitingly new and nostalgically familiar.
If you're someone ready to take on relentless killers in a city that thrives on survival, Killer City has got the goods for you. This action-packed amalgamation of different gaming genres is all set to provide hours of exhilarating gameplay - sure to keep your gaming fingers twitchy and your heart pounding with unending excitement.
In conclusion, if you are searching for unique blend within action-packed survival games, then Killer City deserves your undivided attention!
What are the best online games?