Just Tap (or not)?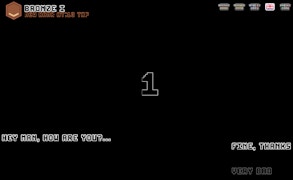 Just Tap (or not)?
Description
From the innovative minds of Italian game developers, "Just Tap (or not)?" is an action-packed clicker game that challenges your reflexes and mental acuity. At the surface, it's a simple touch-based game. But, look further; it will baffle you with its intricate conundrums! This pixel-themed game combines elements of trivia and strategy that keeps you on your toes.
How to play
The gameplay mechanics of "Just Tap (or not)?" are deceptively simple; you either tap or don't! The game throws a series of questions at you and by tapping or refraining to tap, you answer them. Your progression in the game depends on your quick thinking skills and agility with responsiveness being key.
Tips and Tricks
Patience is crucial with "Just Tap (or not)?". Thoughtful responses rather than hasty taps lead to progress. Familiarize yourself with the types of questions asked to anticipate what's coming next. Remember, sometimes doing nothing is the best action!
Features
A unique blend of quick-tap action and trivia.
Pixel-art graphics for a nostalgic gaming experience.
A brain-booster game designed to test your reflexes and IQ.
Made by innovative Italian game developers, bringing European flair to your gaming experience.
What are the best online games?