Jungle Run OZ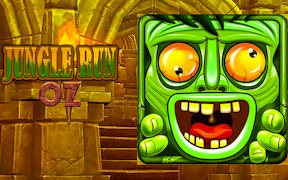 Jungle Run OZ
For enthusiasts of running games, your heart will race as you dive headfirst into the exhilarating world of Jungle Run OZ. This game is not just about speed; it also requires agility and precision, making it an exclusive addition to the category of skill games.
The game drops you right in the middle of a dense jungle, as a monster with an insatiable hunger for flesh. Your mission is simple yet daunting. You have to run as fast as you can while dodging obstacles and evading other monsters. It's an adrenaline-pumping challenge that tests your reflexes and quick-thinking abilities to their limits.
What sets Jungle Run OZ apart from typical running games, is its exciting twist on the genre. In other words, you aren't simply sprinting on a flat track; instead, this game offers various landscapes filled with treacherous obstacles and creatures, which makes the running experience far more thrilling.
The fascinating element about this game is that there's never a dull moment - be it running away from dangers or chasing your prey. The chase is endless in this jungle of uncertainty. The sense of fear combined with the excitement creates a gaming experience like no other.
If you have a penchant for monster games, then look no further than Jungle Run OZ. With its riveting chase scenes and dangerous obstacles, Jungle Run OZ promises to keep you on the edge of your seat at all times.
In conclusion, Jungle Run OZ combines elements from running games, skill games and monster games for an action-packed experience that'll leave you craving for more. Whether you're a casual gamer or hardcore fan of action gaming, Jungle Run OZ offers something for everyone!
What are the best online games?