Jungle Dino Hunter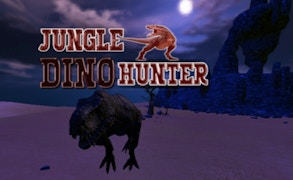 Jungle Dino Hunter
Dive into the heart of the wild, enthral your senses in an exhilarating chase of survival with Jungle Dino Hunter, a game that captivates audience with its intense gameplay and splendid graphics. As one of the top-ranking gun games in the market, this high-stakes dinosaur hunt seamlessly blends the tension of sniper games with the raw thrills of hunting games.
Skill, stealth and stamina mark your survival in this brutal world. Your first shot, ringing through the dense foliage and echoing into infinity, sets the primeval giants on high alert. Sensing danger, they start sniffing out your location - your fight for survival begins. This visceral realism that turns hunting into a game of stealth and strategy sets Jungle Dino Hunter apart from other run-of-the-mill dinosaur games.
The game offers a rich tapestry for exploration with two distinct modes – Sniper mode and Assault mode – which are sure to keep you on your toes. In Sniper mode, you must master accuracy and patience to spot your prey from afar and take it down. In Assault mode, the game takes a thrilling turn as you engage in face-to-face combat with these ferocious beasts – blending strategy, agility and firepower to survive.
The control scheme is intuitive - WASD or Arrow keys for moving around, R for reloading your gun, space to jump and mouse clicks to fire or zoom. The option to switch between guns using the mouse wheel adds an interesting layer to the gameplay by bringing in strategic elements.
In essence, Jungle Dino Hunter is more than just another shooter; it's a genre-defying merger of sniper shooting, hunting thrillers and dinosaur gaming at its finest. With its captivating graphics, tense gameplay and intuitive controls - it's a must-play for any adrenaline junkie out there!
What are the best online games?