Jeff The Killer: Hunt For The Slenderman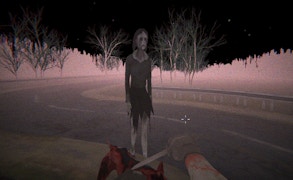 Jeff The Killer: Hunt For The Slenderman
Adrenaline-seekers and fans of heart-pounding terror, prepare for an eerily immersive experience with Jeff The Killer: Hunt For The Slenderman. This game seamlessly blends elements from the most bone-chilling scary games, heart-thumping horror games, mind-bending escape games, and nerve-wracking survival games.
The narrative plunges you into a spine-chilling chase; you've returned to your hometown only to face Slenderman, your old nemesis. The threat is real, the danger imminent as he seeks to obliterate you once and for all. Remember, survival isn't guaranteed – you'll need all your cunning and courage to survive this deadly onslaught!
This game's interactive 3D graphics create a terrifyingly realistic environment that will raise goose bumps even on the bravest of players. It's not just about running away — as in most survival games; it's about tackling the fear head-on. You're up against the notorious killer Jeff and his cronies in your quest for survival, adding layers of intensity rarely seen in various other escape games.
Jeff The Killer: Hunt For The Slenderman is an exceptional addition to kiz10.com's roster of high-quality free games. It offers players an intense journey through a riveting narrative while testing their mettle in the most hair-raising circumstances. Its gripping plot and vivid 3D graphics ensure that your journey will never be a monotonous one.
This unforgettable gaming experience promises to keep you captivated from start to finish. Grab onto your seat tightly because this game won't let go until the very end! So, if you're ready for a disturbing yet thrilling encounter, dive into the world of Jeff The Killer today!
This is more than just a game; it's a test of your terror threshold! Are you brave enough?
What are the best online games?