Impostor Zombrush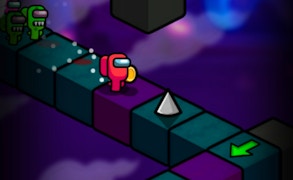 Impostor Zombrush
Embark on a thrilling journey with the latest sensation in the action gaming world, Impostor Zombrush. Taking center stage in the realm of running games, skill games, and survival games, this adrenaline-charged roller coaster of a game promises an immersive experience packed with addictive gameplay mechanics and nail-biting challenges.
In Impostor Zombrush, you're thrust into a chaotic world teetering on the brink of pandemonium as a cute yet daring character impostor. Your quest? To outwit, outmaneuver, and escape from other ravenous little ones among us who are hell-bent on devouring you! It's a survival of the nimblest and there's no room for error.
The heart and soul of the game lie within its cunningly crafted levels. Each stage is meticulously designed to test your agility and quick-thinking skills. The aim is to skilfully navigate your little character impostor between blocks till you reach safety - but be warned, this is not as easy as it sounds. It takes precision, timing, and unrelenting focus to dodge incoming hazards and leap over obstacles.
In this pixelated cube world reminiscent of Minecraft's signature aesthetic, your survival hangs on every jump you perform, every enemy you sidestep. However, this isn't just about survival - it's also about dominance! Collect as many coins as possible to unlock different characters. Turn the tables on those who hunt you by becoming unbeatable!
Overall, Impostor Zombrush establishes itself as an entrancing blend of action and thrill that gets your heart pounding with its high-octane pace. Immerse yourself in this fun-filled adventure exclusive to kiz10 and let your reflexes take control.
If you're a fan of Among Us or enjoy high-stakes running games, then Impostor Zombrush is a must-try game for you. Don't just outrun your opponents - outsmart them! Play now for free on kiz10.com!
What are the best online games?