Impostor Zombies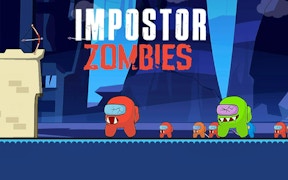 Impostor Zombies
Embark on a gripping journey of heroic survival in the sensational Action game, Impostor Zombies. This thrilling fusion of battle games and archery games pits you against an unrelenting horde of undead, adding a unique twist to the classic zombie games genre. Perfectly balancing elements of monster games and war games, Impostor Zombies offers an immersive gaming experience that will test your strategy skills to their absolute limits.
In this alluring narrative, you stand as the last line of defense between the peaceful city's inhabitants and an army of monstrous Impostors. Your main artillery? Special bows installed around the city walls. Effortlessly combining elements from archery games, this innovative mechanic requires calculating power and trajectory to land successful blows on approaching enemies - a truly captivating challenge that never gets old. Each triumphantly placed shot rewards points, making every strategic decision rewarding.
The more points you accumulate, the closer you edge towards unlocking diverse types of weapons. This adds an additional strategic layer to gameplay, urging players to balance their offence with shrewd resource management - not every weapon is catered for every monster!
The genius blend of war and strategy wrapped up within the monster-filled world of Impostor Zombies will have gamers on the edge of their seat from start to finish. Whether you're a fan of battle games or love the thrill that comes with zombie games, there's something just for everyone in this action-packed masterpiece.
In conclusion, if what you seek is action-filled gameplay courted by intense strategy elements, then look no further than Impostor Zombies. It wonderfully combines pieces from various genres into one cohesive and captivating experience.
What are the best online games?