Impostor Shooter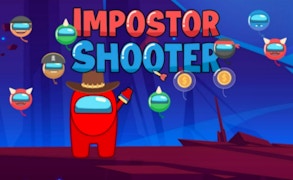 Impostor Shooter
One of the most captivating Bubble Shooter Games to hit the market recently is none other than Impostor Shooter. This game is not just your typical shooter, but it's cleverly crafted as one of those addictive Skill Games that blends elements of clicker games, and tap games.
The Impostor character, which we usually associate with deception and sabotage, is seen in a refreshing light here. No longer the cunning antagonist, he now valiantly battles against an onslaught of spherical creatures. His tool? A gun that's as quick and precise as your tapping skills can make it.
A wide array of vibrant coloured balls keeps the game lively and provides diversity in targeting. Much like playing pool with an extra layer of challenge, this shooting escapade tests your aim and reflexes from every possible angle.
Once you spot a transparent ball harboring coins within its bounds, do not miss it! These are golden opportunities to collect in-game currency, providing you the power to upgrade your weapon arsenal—not merely for aesthetics but significant gameplay improvements as well.
The stakes get even higher when you realize you're only allowed to miss five targets before it's game over. The increasing tension elevates Impostor Shooter into a league of its own among typical bubble shooter games: it pushes your concentration, precision, and strategic skills to their absolute limits.
In conclusion, if you're an enthusiast for shooting games with challenging twists and enjoy testing your speed-tapping skills - search no further. With its engaging gameplay mechanics and exhilarating pace, Impostor Shooter easily ranks among the best option for online gaming entertainment.
What are the best online games?